Today was the longest ride with 60 miles on the cue sheet.  There were a few climbs ahead and none of my training in New York, Jersey or Pennsylvania have really prepared me for what I was about to face. Climbs in Alaska seem endless. Once I started I would need to mash at 3-5 mph until reaching  the top. The grades are steep and stopping was more futile.  Kicking off would be at an angle to the grade just  get back on.  My quads were burning. Lisa, Joan, Ron and I were climbing another monster hill  when it started to rain.  It started very light, and I did not think that I needed my rain coat when it came down close to reaching the peak.  The sky was black and we felt the wind pushing the rain against us.  I jumped down from Jamie and grabbed my coat, but I was already drenched. The road conditions also deteriorated, becoming more of an uneven surface with a lot of gravel.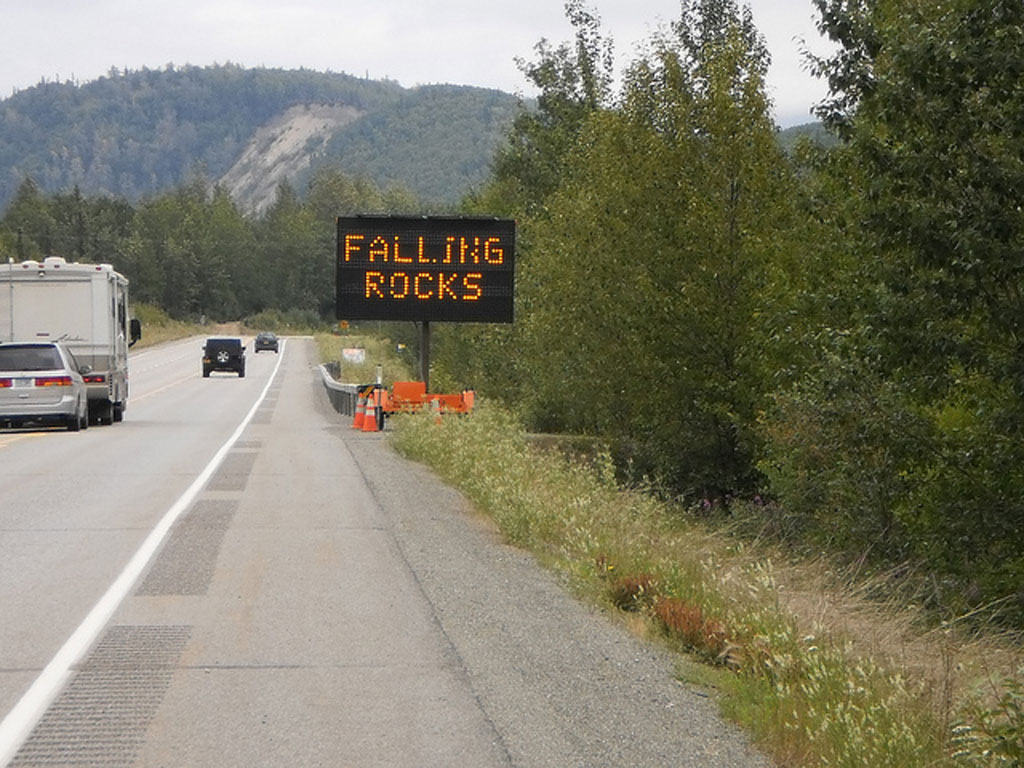 We continued slowly, reaching the peak and the sun came out. The sky just disappeared as fast as it started. It got hot, sweltering, humid and we all stripped back down when suddenly gray clouds of mosquito swarms attacked us. Quickly, we pulled out our mosquito net and put it over our helmets. There were so many of them that I resisted drinking under the scorching sun to avoid lifting the net.
In the distance I again saw some dark clouds. They were ahead of of me on the next peak. I was on my own when the sky turned again and this time pea-sized hail shot down on me rapidly. They were very painful and there was no shelter in sight. The road was lined with small, stubby pine trees. I had to keep on cycling and all I could think about was protecting my eyes. I stared down at the road and hoped my glasses would be enough protection.
After unrelenting 10 minutes the hail subsided when I was going down the hill. Snow covered-mountains were in front of me. The sun was breaking through the clouds and reflected off the road. The world changed within a few seconds.
Hypothermia and Bailing Out.
My feet were soaked. The fancy waterproof hiking shoes were definitely false advertisement. I tried to change my socks and dry off at one of our lodge stops. I hoped drinking warm tea and pie would cure anything, but I remained very cold and started to shiver.
The last climb for the day was short and brutal under a beautiful sunny sky. I arrived at the lodge, waiting for Joan, Lisa and Ron to catch up with me. They weren't far behind me. I was still very cold and now exhausted - Jamie looked the same way as I felt. Her chain was dirty and I had to peddle twice as hard. I changed into a dry set of clothing, ordered an Irish coffee and waited to finally warm up again.
When Lisa, Joan, and Ron arrived, they looked at me and were worried. I must have been pale and shaking. We had just seven miles left to the campground at the lake. It was supposed to be the best campground on the trip.
I really wanted to finish, but I had to admit that getting sick would be much worse than to bail and stay overnight at the lodge. I took a very long hot shower just to warm up, but even then was still freezing. The heat was turned off, and I turned it up to the maximum. Covered in all the bed sheets, I finally reached normal body temperature after two hours. I quickly fell asleep to the low voices of an HBO movie. Some man trying to kill a woman.